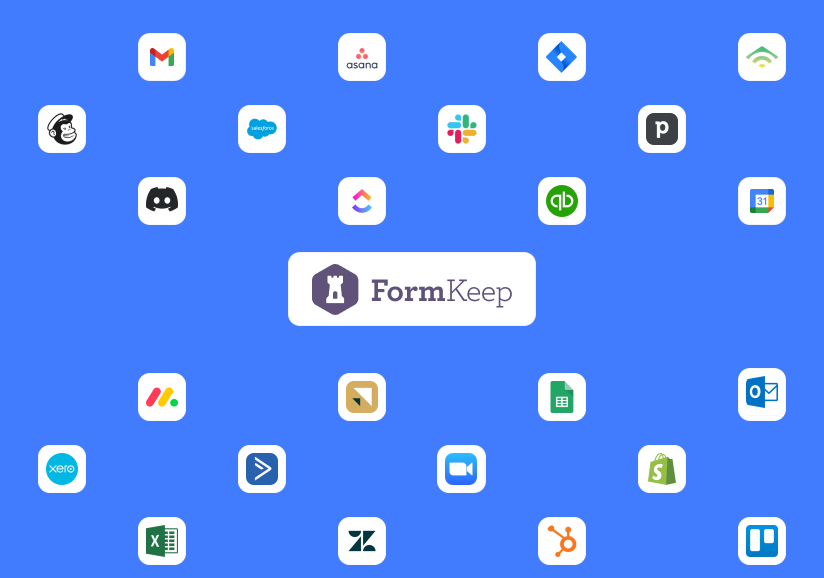 Welcome! Here we'll walk you through using our latest updated feature: Integrations.
FormKeep has native integrations allowing you to directly connect your forms to your workflow applications.


Connect FormKeep to all the apps you use!
FormKeep's integrations platform allows you to create automated workflows called Automations that send your form submissions to the other apps you use. You can set up an Automation in minutes and absolutely no coding or technical knowledge is required.
We'll teach you how to:
Connect your forms to an integration
Set up an automation
Setting up an Integration
Note that this feature is only available on our Professional, Premium, and Enterprise plans. Our wide range of native integrations include
Active Campaign
Asana
Clickup
Close
Discord
Freshsales
Freshservice
Gmail
Google Calendar
Google Docs
Google Sheets
Hubspot
Intercom
Jira Software Cloud
Klaviyo
Mailchimp
Microsoft Excel
Monday
Microsoft Teams
Outlook Mail
Pipedrive
Quickbooks online
Salesforce
Shopify
Slack
Trello
Twilio
Xero
Zendesk
Zoom.
Connecting your form to integrations

Your form fields are the essential data for your integrations to work with. Everything from contact details, answers of an important survey are all stored in FormKeep, are then passed to your workflow apps to create leads, place in GoogleSheets for tracking, even create email campaigns with!
Your known fields are based on the form fields you've set up on your form. FormKeep automatically adds those fields with the submission data to move into the integrations.
Once you've figured out which of the form fields you'll be taking data from, you can now head on over to the Integrations tab and start setting up your desired automations.
Setting up an Automation to send your data to
To set up an automation, you'll first need to select the App to which you'd like to send your form submission data, and then select which Action you'd like to perform in that app.
For example, say you want to send new form submissions to a channel in Slack. Select "Slack" as your Automation's App and then select the "Send a channel message" Action:

Next, add an account to use for the selected Action. You'll be prompted to give access to our partner Rollout in order to complete your Action: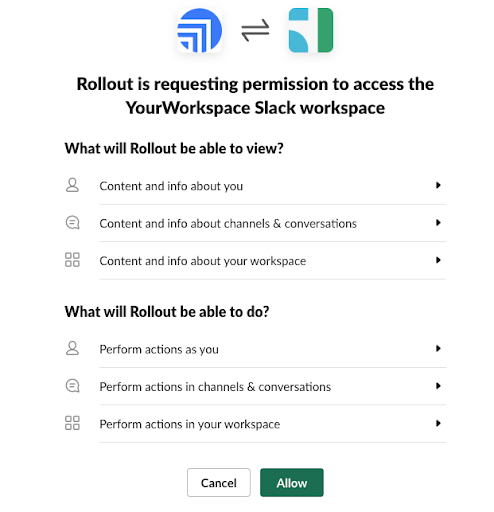 The last step is to tell us how to send your form submission data to your selected App. When sending a channel message in Slack, for example, the inputs are the channel to send the message to and the message to send. By typing "@" or clicking the "@Insert data" button you can reference the data submitted in your form:

With the example above, your team would get a Slack message with the submitter's Name, Email, and Revenue Opportunity on every form submission!
Questions? Need an integration that's not on our list? Reach out to us on livechat support or email us at support@formkeep.com!